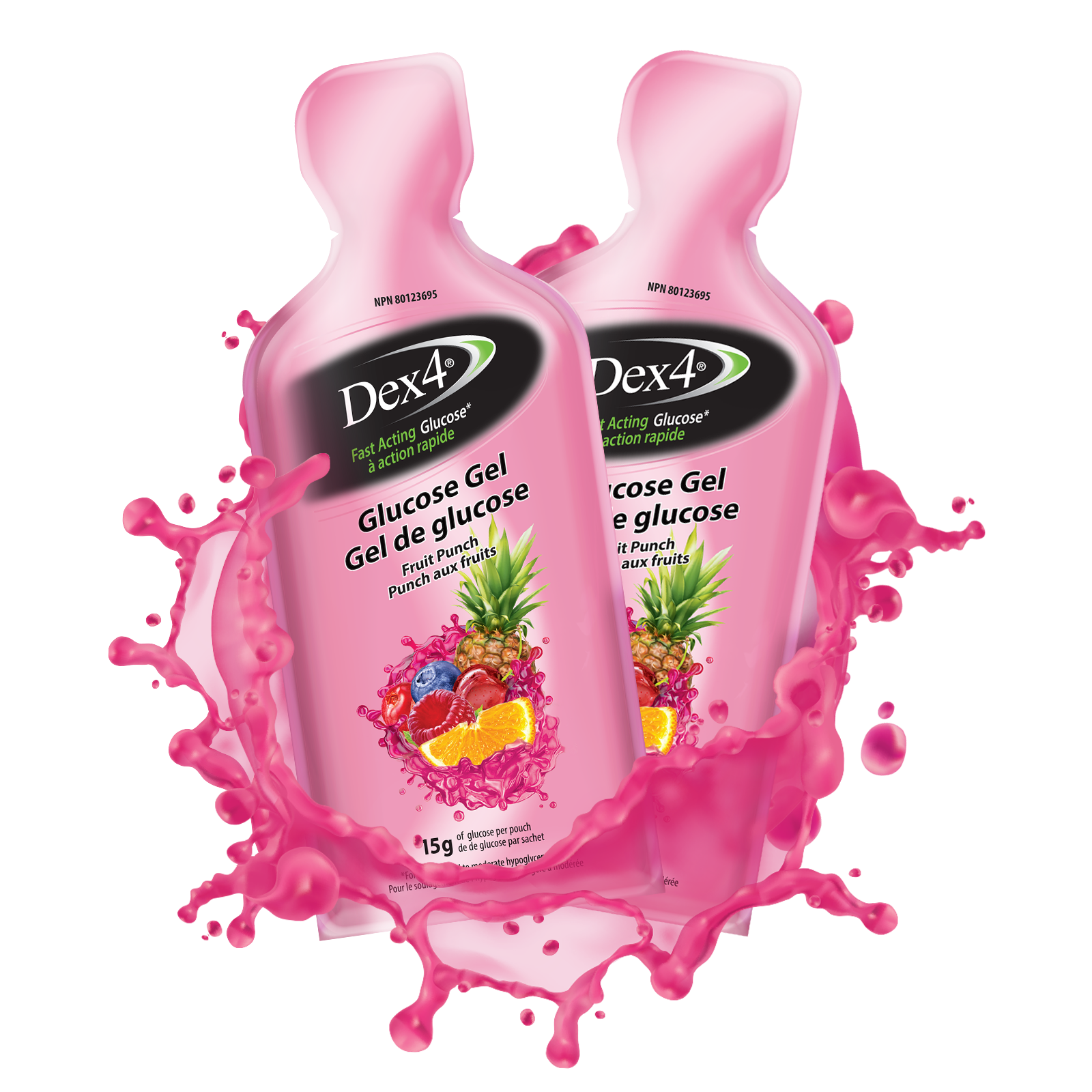 Dex4® provides FAST and EFFECTIVE relief of mild to moderate hypoglycemia Dex4® Glucose Gel comes in great tasting Fruit Punch flavour that is quick and easy to swallow. Each pouch contains 15g of Dextrose (d-glucose) that is compact and convenient to take with you wherever you go. Additionally, Dex4® Gels are:
Each pouch contains 15 g of (Glucose Zea mays – fruit)
Non-medicinal Ingredients
Ingredients:
Water, Glycerin, Xanthan Gum, Citric Acid, Natural & Artificial Fruit Punch Flavour, Potassium Sorbate, Sodium Benzoate, Acesulfame Potassium, FD&C Red #40
Fast and effective relief of mild to moderate hypoglycemia.
Consult a healthcare practitioner prior to use if you have a condition that causes low blood sugar levels, if you are pregnant or breastfeeding, or if low blood glucose symptoms persist, worsen or recur. Hyperglycemia and glucosuria may occur as a result of overdosing with dextrose (glucose).
For oral use only. Do not use if protective seal is broken or missing.
1 serving = 1 pouch = 15 g of glucose
Children 5 - 10 years old: 0.7 serving, 1 time per day. Adult to administer ⅔ of a bottle to children 5 - 10 years of age.
Children and Adolescents 11 - 18 years old: 1 serving, 1 time per day.
Adults: 1 serving, 1 time per day.
Please consult with your healthcare professional to determine your serving size and to establish repeated use; treatment must be individualized.
Store at room temperature. Do not freeze.